The MultispeQ combines the functionality of a handheld fluorometer, a chlorophyll meter, and a bench-top spectrometer into one low cost, modifiable tool that brings lab quality measurements to field applications. Measure photosynthetic phenotypes in real field conditions, identify biotic and abiotic stresses in plants or algae, and collect thousands of data points around the world using collaborators in the PhotosynQ network. The MultispeQ is what you wanted all your other tools to be - affordable, powerful, modifiable, and collaborative by design.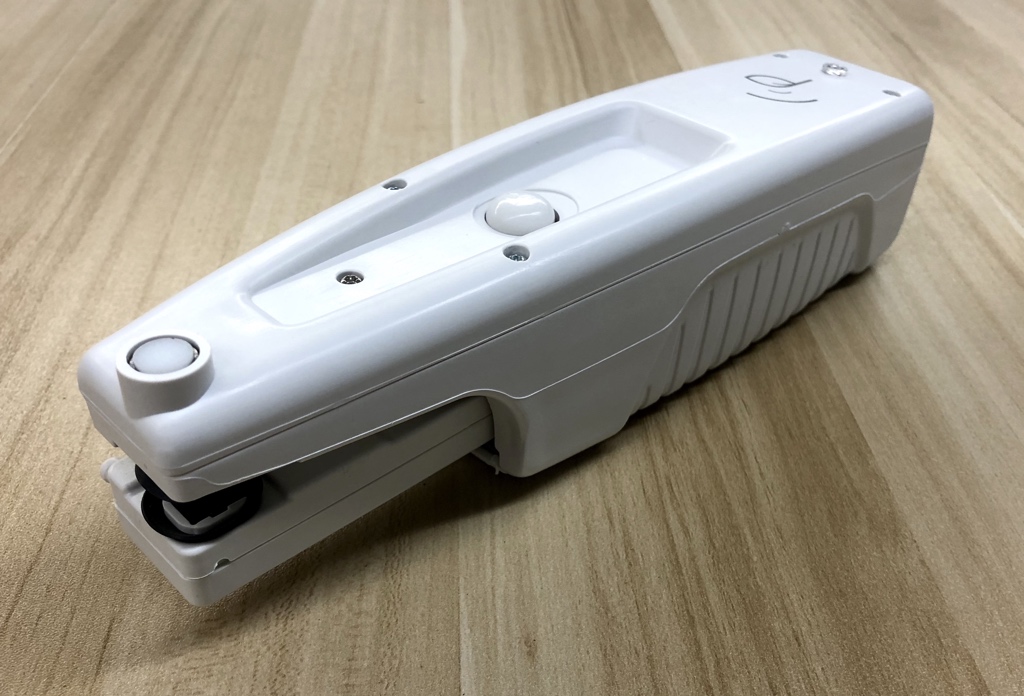 Dimensions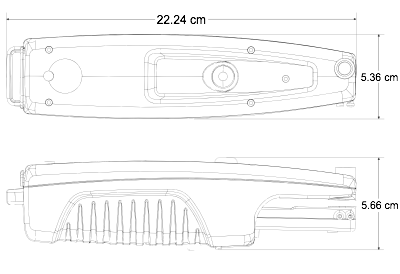 Apps
---
Connections

Bluetooth 2.0+EDR

Micro-USB 2.0
In the Box
MultispeQ
Micro-USB cable
Quick Start Manual
Software
The instrument connects to the PhotosynQ network via mobile (Android) or desktop (PC or Mac) to collect measurements and save it to the online platform. There your measurements can be managed, analyzed, and shared with communities across the world.
5500 mAh internal battery, will last all day for typical use
Ergonomic design, right or left handed
Measure cuvette (algae) or leaf seamlessly
Available LEDs and detectors for spectroscopy

LEDs:
448 nm, 530 nm, 590 nm, 655 nm (2x), 730 nm, 810 nm, 880 nm, 950 nm (2x)

Detectors:
400-700 nm, 700-1150 nm

Automatically adds location and time stamp to all measurements
Ambient temperature ± 0.5 °C
Contactless leaf temperature ± 0.1 °C in the 30 - 40 °C range
Relative humidity ± 3 %
Barometric pressure ± 0.25 %
Measure leaf angle (wilt) and cardinal direction
External sensor connector for ultimate modability
Measure fluorescence base parameters for plants and algae including ΦII, LEF, NPQ, qE, qI, qL, qP and absorbance based parameters like vH+, gH+, ECSt
Record abiotic factors including ambient temperature, relative humidity, barometric pressure and altitude as well as contactless leaf temperature, leaf angle and leaf direction
Flexible, system to create your own measurement protocols and code to analyse your data
Port for adding additional sensors (USB 3.0)
Automatic firmware updates through Mobile or Desktop App
Optimized power management to reduce overall power consumption
Collected measurements will be cached, allowing you to take measurements in remote locations.
Data can be easily viewed and analyzed in your browser.
Libraries for advanced analysis in R or Python are available.
Developed under the direction of Professor David Kramer, a foremost leader in the development of photosynthesis measurement equipment, models for understanding photosynthesis, and photosynthetic parameters which can be applied to identify novel phenotypes
MultispeQ prototype instruments were tested for 2 years, and the next version MultispeQ v1 has been used to collect over 250,000 measurements in more then 20 countries.
Used by plant scientists to successfully measure fluorescence based parameters like photosynthetic efficiency (ΦII), linear electron transfer (LEF) and non-photochemical quenching (NPQ) in the lab and in the field
Used by plant breeders of wheat, dry beans, soy beans, potatoes, clover, cowpea, corn, poplar, and many others
Used by educators, including 6 semesters in undergraduate biology classes by 200+ students