PhotosynQ allows users from different backgrounds to create their own projects, take measurements and discuss the results to adress their specific questions.
Education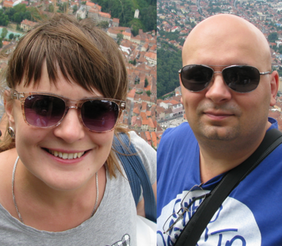 Nataliia and Andriy Herts, Teachers of higher education, Botany and Zoology / Associate professor, general biology
Volodymyr Hnatiuk Ternopil National Pedagogical University (Ukraine), Ph. D. (Biology)
Growing plants in autonomous agroecosystems, like greenhouses, is an energy intensive process where in the main technological requirement is the creation of adequate natural lighting. Therefore, the search for energy saving technologies is critical to growing plants in these conditions.
To reduce energy use, we must first investigate the influence of light-related parameters on the development, growth, productivity, and biochemical composition of plants in order to understand the influence of artificial lights (fluorescence and LED lights for example) and ultimately improve growth strategies based on that knowledge.
We are using PhotosynQ, in combination with physiological methods, biochemical methods, and color infrared imagery, to identify physiological activity and detect plant stress in greenhouses.
If successful, PhotosynQ would be an efficient, convenient and inexpensive (low-cost) technology that is able to quickly assess the physiological state of the plants growing in greenhouses, laboratory conditions, both in-vitro and in-vivo.
---
Research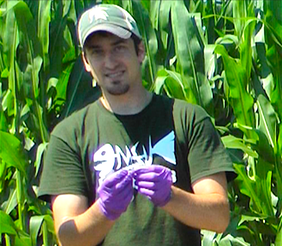 Mitch Roth, Ph.D student
Member of Dr. Martin Chilvers lab at MSU
I first tried using PhotosynQ in my research in the summer of 2015 as a way to assess the health of soybean roots that were infected with the fungal pathogen Fusarium virguliforme, which causes soybean sudden death syndrome. PhotosynQ was an appealing option for this because our current methods of assessing root health require destructive sampling. This destructive sampling prevents us from gaining any more information from that plant at a later point in the growing season, while PhotosynQ is non-destructive.
Preliminary PhotosynQ results agree with our current destructive sampling method, with PhotosynQ having a positive correlation to disease development and yield loss. It remains to be seen how early in advance PhotosynQ can accurately predict overall disease development and yield loss. Therefore, if PhotosynQ continues to prove itself at being successful at earlier points in the growing season, hopefully PhotosynQ can be implemented as part of a disease prediction assay that aids growers in making management decisions.
---
Development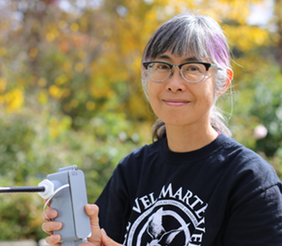 Atsuko Kanazawa, Research Scientist and Developer
Plant Research Laboratory, MSU
The 'Godzilla El Niño 2015-2016,' a weather pattern that warms the oceans where many coral reefs live, is already leading to a catastrophic coral bleaching event in Pacific. This event will soon spread to other places such as Caribbean and Great Barrier Reef. We would like to understand the process of bleaching, why some corals are more sensitive, why some recover from it, but some cannot, and thus what we can do, if anything, to fix the problem.
A major problem is that the tools needed to probe corals have not been available to most of the world. We, the team at PhotosynQ in the Kramer Lab at MSU, have developed CoralspeQ, a first-of-its-kind technology that will allow researchers, park rangers and citizen scientists all over the world to probe coral health and the factors that may affect bleaching.
Data from field sites is instantly uploaded to the cloud where people around the world can access and analyze it. This data will help to understand the coral bleaching process, and lead to new coral conservation approaches.
---
Production Agriculture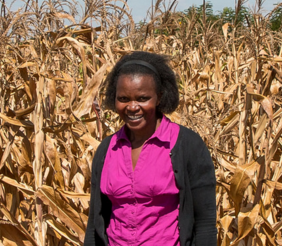 Ivy Ligowe, Researcher and Agronomist
Department of Agricultural Research Services, Ministry of Agriculture and Food Security, Malawi
Our lab is interested in developing cropping systems that improve the smallholder farmer production in the long term through increased water and N use efficiencies.
We used the MultispeQ to examine the effects of multiple soil management practices and N fertilizer rates on maize and cowpea performance both on research stations and smallholder farm sites around Malawi.